Mo Linguist Explains Decision To Leave Michigan For Buffalo
The Maurice Linguist Era lasted only three and a half months for Michigan Wolverines football, with the co-defensive coordinator and secondary coach having moved on to become the head coach at Buffalo.
The timing, of course, is the hardest part for the Maize and Blue, who now have to make a hire in May. The Bulls' opening was due to their former head man, Lance Leipold, accepting the job at Kansas following Les Miles' departure.
With that, Michigan's Jim Harbaugh, sees another one of his assistants become a head coach, the 19th of which to do so through all of his stops — San Diego, Stanford, San Francisco and U-M. While he's surely disappointed that he's losing an elite recruiter and young, energetic on-the-field coach in Linguist, Harbaugh didn't express that in a statement released via the Michigan football Twitter account, where he congratulated Linguist.
"I am happy for Mo Linguist and his family on this opportunity to be head coach at the University of Buffalo," he said. "We are excited for Coach Mo and know that he will do great things as a head coach."
Harbaugh hasn't wasted any time trying to find his replacement, and the list of candidates is impressive. Click here to read our latest report on the search.
RELATED: ITF EXTRA: Michigan's List of Potential Linguist Replacements Expands
RELATED: Every Coaching Staff Move Jim Harbaugh Has Made This Offseason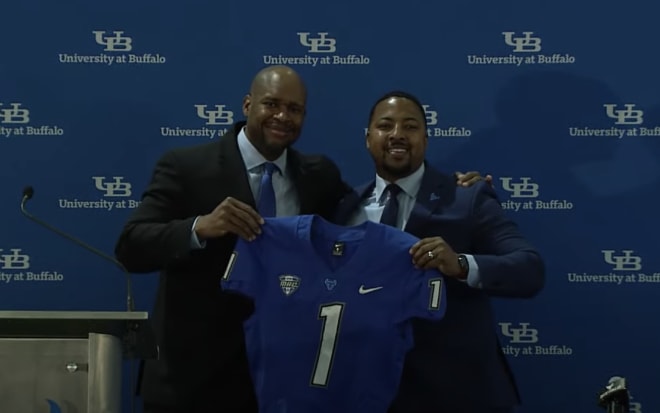 While program rivals and hostile media will likely spin Linguist's departure as some sort of condemnation of Harbaugh and Co. at Michigan, since the next hire will be the seventh assistant coaching addition of the offseason, Linguist never intended on leaving before ever being part of a game at The Big House.
But the chance to lead a program he was once part of — having served as Buffalo's defensive backs coach from 2012-13 — was a tough one to pass up, he said. And such is life in the coaching profession — Linguist has risen quickly up the ranks, and he, like most, dreamed of becoming a head coach.
During his introductory press conference Monday, Linguist thanked Harbaugh in his opening remarks, then, in the question and answer portion, was asked about leaving Michigan so quickly.
"I would still be at Michigan if it wasn't for this incredible opportunity here," Linguist said. "When [Buffalo athletic director] Mark [Alnutt] and I first communicated, it was an instant connection in my eyes.
"I have a lot of familiarity with the University at Buffalo, a lot of great memories that we want to bring back and bring back for life and build on. Obviously, any time you make a transition, the recruits and the student-athletes and the coaches and the community that you're a part of — it's always difficult. But this was just too good for me to not investigate and be a part of. As hard as it was to leave that situation [at Michigan], we could not be more excited to be here and get ready to work."
This isn't just any old job, either, Linguist made sure to point out. On top of his connections to the program, Buffalo is one of the top teams in the MAC, having just won the MAC East championship and making three straight bowl appearances.
"This is an unprecedented time, taking over a program [in May]. … The positive is that we're taking over a stable foundation," he said. "We recognize the challenges that we have because of the time. We had a team meeting the other day, and we clearly stated and expressed that to the team — this is not an overhaul as much as it is a continuation."