A Complete Breakdown Of Michigan's '20 Roster, Ordered By Both Class & Year
The Michigan Wolverines' football team is slated to have 82 scholarship players on its roster heading into fall camp, NOT including past walk-ons who have been put on scholarship at one point or another.
Walk-ons oftentimes receive scholarships on a semester-to-semester basis, with notable contributors such as fifth-year senior punter Will Hart, junior kicker Jake Moody, redshirt junior defensive tackle Jess Speight and fifth-year senior center Andrew Vastardis all having received one after they arrived at U-M as walk-ons.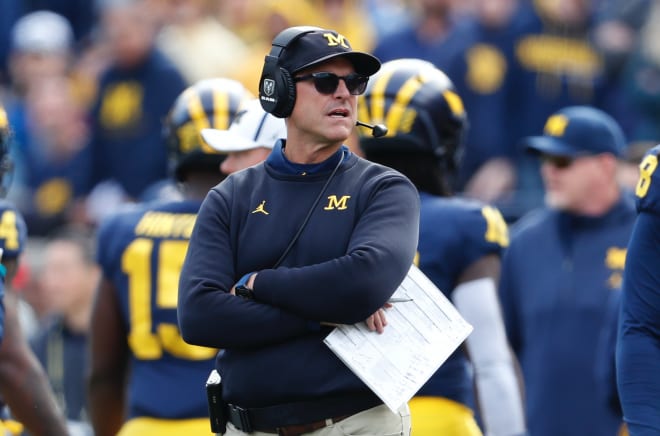 Eight Wolverines have transferred out of the program since the 2019 regular-season came to an end (linebacker Jordan Anthony, wideout Tarik Black, defensive tackle Michael Dwumfour, linebacker Devin Gil, cornerback Jaylen Kelly-Powell, defensive end Aaron Lewis, offensive lineman Stephen Spanellis and running back Tru Wilson), leaving head coach Jim Harbaugh with what appears to be the opportunity to allow three walk-ons to be on scholarship in 2020 (85 is the maximum number college football teams are allowed to have).
The Maize and Blue have not updated their official roster for the 2020 season, meaning there could be a few surprise departures that haven't been revealed publicly yet. That sentiment is only speculative, however, and as a result, we can only make decisions on the charts below based on what we assuredly know.
Former walk-ons who have been put on scholarship were not included on the following lists, simply because we don't know which ones will be maintaining their scholarships and which ones won't be.
Michigan's 2020 Roster, Ordered by Year:
Fifth-Year Seniors (4): TE Nick Eubanks, RB Chris Evans, DT Carlo Kemp, K Quinn Nordin
Seniors (5): WR Nico Collins, S Brad Hawkins, FB Ben Mason, DE Kwity Paye, CB Ambry Thomas
Redshirt Juniors (9): OG Chuck Filiaga, OL Joel Honigford, DT Donovan Jeter, QB Dylan McCaffrey, DT Phillip Paea, P Brad Robbins, LB Josh Ross, OL Andrew Stueber, DE Luiji Vilain
Juniors (2): WR Ronnie Bell, DE Aidan Hutchinson
Redshirt Sophomores (15): LB Michael Barrett, S Sammy Faustin, CB Vincent Gray, CB Gemon Green, S German Green, RB Hassan Haskins, LT Ryan Hayes, RT Jalen Mayfield, LB Cam McGrone, QB Joe Milton, TE Luke Schoonmaker, RB Christian Turner, DE Taylor Upshaw, LB Ben VanSumeren, DE Julius Welschof
Sophomores (8): TE Erick All, RB Zach Charbonnet, S Daxton Hill, DT Chris Hinton, WR Giles Jackson, WR Cornelius Johnson, WR Mike Sainristil, LB Anthony Solomon
Redshirt Freshmen (17): OL Karsen Barnhart, OC Zach Carpenter, CB George Johnson, S Quinten Johnson, OT Trente Jones, OL Trevor Keegan, QB Cade McNamara, DE Mike Morris, DE Gabe Newburg, DE David Ojabo, CB Jalen Perry, OG Nolan Rumler, DT Mazi Smith, OT Jack Stewart, LB Charles Thomas, CB D.J. Turner, LB Joey Velazquez
Freshmen (22): OL Reece Atteberry, RB Blake Corum, CB Eamonn Dennis, CB Darion Green-Warren, DE Jaylen Harrell, WR A.J. Henning, TE Matt Hibner, LB Nikhai Hill-Green, DE Kris Jenkins, DE Braiden McGregor, LB William Mohan, S Jordan Morant, S R.J. Moten, LB Kalel Mullings, S Makari Paige, OL Jeffrey Persi, LB Osman Savage, CB Andre Seldon, QB Dan Villari, LB Cornell Wheeler, WR Roman Wilson, OL Zak Zinter
Michigan's 2020 Roster, Ordered by Position: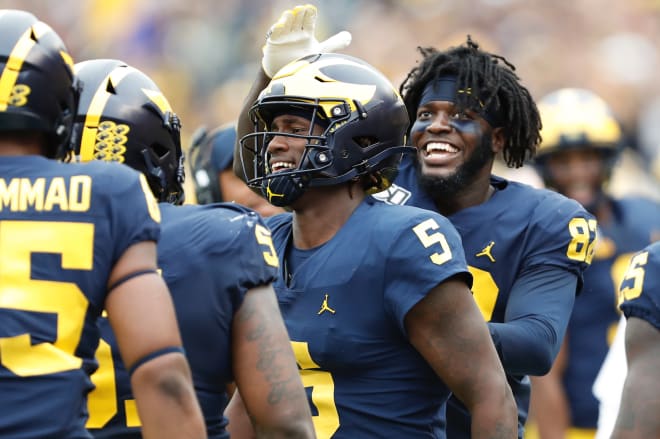 Quarterbacks (4): Redshirt junior McCaffrey, redshirt sophomore Joe Milton, redshirt freshman Cade McNamara and freshman Dan Villari
Running Backs (6): Fifth-year senior Chris Evans, senior Ben Mason, redshirt sophomores Hassan Haskins and Christian Turner, sophomore Zach Charbonnet and freshman Blake Corum
Wide Receivers (7): Senior Nico Collins, junior Ronnie Bell, sophomores Giles Jackson, Cornelius Johnson and Mike Sainristil, and freshmen A.J. Henning and Roman Wilson
Tight Ends (4): Fifth-year senior Nick Eubanks, redshirt sophomore Luke Schoonmaker, sophomore Erick All and freshman Matt Hibner
Offensive Linemen (14): Redshirt juniors Chuck Filiaga, Joel Honigford and Andrew Stueber, redshirt sophomores Ryan Hayes and Jalen Mayfield, redshirt freshmen Karsen Barnhart, Zach Carpenter, Trente Jones, Trevor Keegan, Nolan Rumler and Jack Stewart, and freshmen Reece Atteberry, Jeffrey Persi and Zak Zinter
Defensive Ends (11): Senior Kwity Paye, redshirt junior Luiji Vilain, junior Aidan Hutchinson, redshirt sophomores Taylor Upshaw and Julius Welschof, redshirt freshmen Mike Morris, Gabe Newburg and David Ojabo, and freshmen Jaylen Harrell, Kris Jenkins and Braiden McGregor
Defensive Tackles (5): Fifth-year senior Carlo Kemp, redshirt juniors Donovan Jeter and Phillip Paea, sophomore Chris Hinton and redshirt freshman Mazi Smith
Linebackers (12): Redshirt junior Josh Ross, redshirt sophomores Michael Barrett, Cam McGrone and Ben VanSumeren, sophomore Anthony Solomon, redshirt freshmen Charles Thomas and Joey Velazquez, and freshmen Nikhai Hill-Green, William Mohan, Kalel Mullings, Osman Savage and Cornell Wheeler
Cornerbacks (9): Senior Ambry Thomas, redshirt sophomores Vincent Gray and Gemon Green, redshirt freshmen George Johnson, Jalen Perry and D.J. Turner, and freshmen Eamonn Dennis, Darion Green-Warren and Andre Seldon
Safeties (8): Senior Brad Hawkins, redshirt sophomores Sammy Faustin and German Green, sophomore Daxton Hill, redshirt freshman Quinten Johnson and freshmen Jordan Morant, R.J. Moten and Makari Paige
Special Teamers (2): Fifth-year senior kicker Quinn Nordin and redshirt junior punter Brad Robbins