By The Numbers: Daxton Hill Commits To Michigan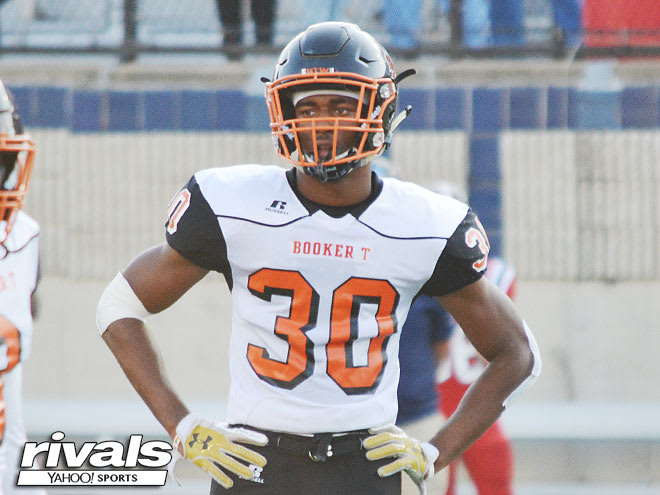 2 Five-star recruits now in the 2019 recruiting class for Michigan — Hill, No. 24 nationally, joins No. 18 Chris Hinton, a defensive end. This would mark the second time Jim Harbaugh has added multiple five-stars in a single class. He also did so in 2017, with a school-record three such incoming freshmen, and is quickly closing in on Lloyd Carr's all-time mark of three such groups (although Rivals.com dates back only to 2002, not the beginning of Carr's tenure). U-M signed just one such class (2012) from 2008-2016.
2 Of Rivals.com's top 24 prospects in the country are now committed to the Wolverines. U-M has not inked two of the top 24 since 2012 (No. 14 Ondre Pipkins and No. 22 Kyle Kalis).
4.3 Was Hill's electronically timed 40-yard dash at Nike's The Opening this past spring. It was tied for the fastest mark on the circuit. Not only would it have been the fastest recorded at the 2018 NFL Combine, it would have tied for the ninth fastest at the NFL Combine since 2006.
5 Five-star commits in a three-year span (with the caveat that the 2019 class isn't signed yet) — as the Wolverines have now when Hill and Hinton are combined with the 2017 class' trio — which marks the most for the Wolverines during such a time frame since inking five from 2005-07. Only seven schools have more than five five-star commits in the last three cycles (as of the morning of Sept. 19).
6 Schools have multiple Rivals.com five-star commits in their class of 2019 — No. 6 Oklahoma (three), No. 7 LSU (three), No. 14 Auburn (three), No. 1 Georgia (two), No. 3 Texas A&M (two) and No. 8 Michigan (two).
6 Five-star recruits have been landed by Harbaugh in his three-plus years at the helm. That is more than former coaches Brady Hoke (four) and Rich Rodriguez combined for in their tenures (five). Carr holds the all-time mark with nine.
8th Nationally is where U-M's 2019 class now checks in at on the Rivals.com rankings. In addition to the pair of five-stars, it also includes six four-stars and 14 three-stars. Five of the pledges are included in the Rivals250 — No. 18 Hinton, No. 24 Hill, No. 118 offensive guard Nolan Rumler, No. 162 defensive tackle Mazi Smith and No. 236 Zach Charbonnet.
43.6 Inches on the vertical leap for Hill at The Opening, which ranked fourth at the event in 2018 and also would've led all players at the 2018 NFL Combine. 43.5 inches is tied for the sixth-best mark at the last 13 NFL Combines, but that event's results only come in half-inches.
47.2 Percent of Harbaugh's 72 recruits the last three cycles (2017-18 signees and current 2019 commits) have been ranked as four- or five-star prospects by Rivals (6.9 percent five-stars, 40.3 percent four-stars). 33.3 percent of them have been included in their class' Rivals250, and 12.5 percent in the Rivals100.
143.76 Was Hill's final football rating from The Opening, which ranked second nationally in 2018. When current U-M sophomore wideout Donovan Peoples-Jones won the Nike Football Rating Championship in 2015, he tallied a score of 149.49 — but ran a 4.42 40 and leaped 43.5 inches, compared to Hill's 4.3 and 43.6.
2014 Was the last time U-M signed a five-star defensive back — No. 3 overall recruit Jabrill Peppers. However, Peppers was listed as a cornerback by Rivals, meaning that Hill would be Michigan's first-ever five-star safety according to Rivals (again, dating back to 2002).
More Of Our Daxton Hill Commitment Coverage