Juwan Howard 'Not Interested' In Even Discussing NBA Head Coaching Jobs
Michigan Wolverines head basketball coach Juwan Howard isn't going anywhere.
The former All-American player at Michigan has enjoyed immense success in his two years as the program's head coach, having led his team to the outright Big Ten regular-season title and an Elite Eight appearance in 2020-21. He was named National Coach of the Year by the Associated Press.
While his name has been mentioned by NBA reporters when recent jobs have become open, Howard is not interested in even having conversations with teams in the league, and is perfectly content coaching the Maize and Blue, ESPN's Adrian Wojnarowski reported in a tweet Thursday.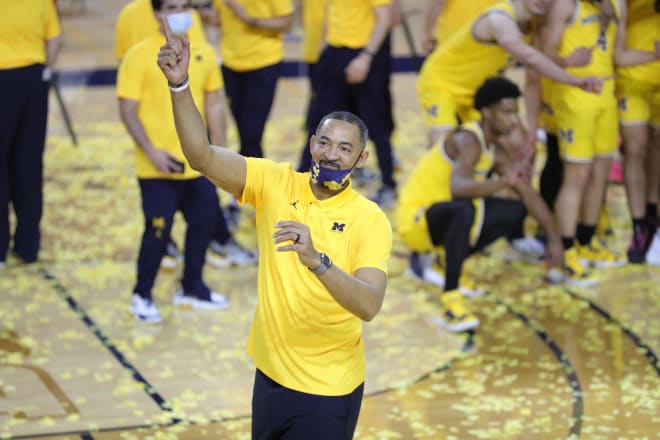 Wojnarowski had tweeted last week that Howard was among candidates expected to be considered for the Portland Trail Blazers' opening, though there was no mutual interest.
Howard is entering the third year of a five-year contract with Michigan that pays him roughly $2 million annually. Many expect him to receive a raise and potential extension this offseason, though there has been no news on that front in some time.
His son, forward Jace Howard, is a freshman on the team, and youngest son, Jett Howard, is a 2022 recruit who will likely end up a Wolverine himself. On top of that, Howard, who interviewed for the Minnesota Timberwolvees' head coaching job before being hired at Michigan in 2019, is loving the Ann Arbor experience.
"I'm in Ann Arbor to stay, baby," Howard said on the Jalen and Jacoby show in March. "I love Michigan, I love my job and I'm enjoying it and this experience. I'm also looking forward to growing each and every year and developing these young men to become the best versions of themselves as a student-athlete.
"This is a dream job for me. I think my passion last year showed how much I appreciate being in this position.
"The NBA, it's a beautiful game. They have great coaches there, amazing, talented players, a beautiful brand. But I enjoyed that experience for 25 years, 19 as a player and six as a coach. I'm going to stay and keep growing with Michigan. Go Blue."
Howard has been hosting recruiting visitors in June, ahead of July's evaluation period. He has not released a statement on recent reports that he is coveted by NBA franchises, instead letting his actions speak much louder.
"I know his heart is in Ann Arbor," Howard's former teammate at Michigan, Jalen Rose, said on the Rich Eisen Show this week. "I know that he wants to bring a national championship back to the school. We do have the No. 1 recruiting class coming in next year. I know he's excited, he and his staff, about coaching them."
"I would tell you to breathe easy, that I anticipate that he'll still be with us for the foreseeable future and committed to doing all the things he said in his initial press conference."
It appears Howard is just getting started in Ann Arbor.