Michigan Blasts Purdue, 70-53, In West Lafayette, Stays Atop The Big Ten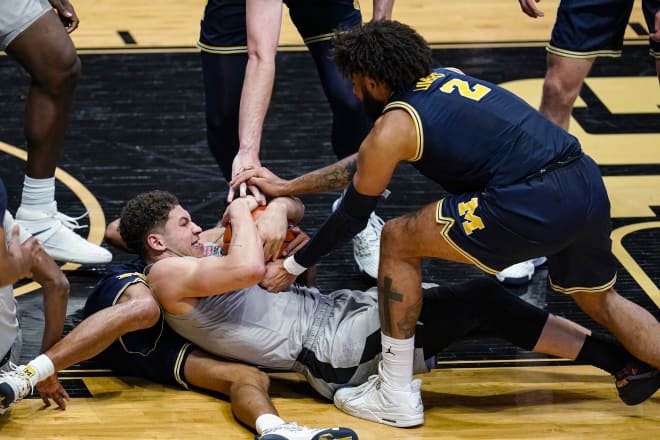 First Half
Michigan got started with a 7-2 run, highlighted by a second-chance three pointer that was nailed by senior guard Eli Brooks at 17:55. Purdue only connected on one of its first five attempts from the field. Senior forward Isaiah Livers hit two free throws with just under 17 to play to make it 9-2, after he was fouled by Boilermakers' junior forward Trevion Williams, who checked out of the game at that point.
Purdue redshirt junior forward Aaron Wheeler hit a layup at 16:15 to make it 9-4, and that was the score at the under-16 media timeout. There were seven offensive rebounds at that point, meaning a lot of shots were missed — Michigan was 3-of-10 and Purdue started 2-of-8.
Michigan fifth-year senior guard Mike Smith nailed a three-pointer at 12:20, with the assist from sophomore wing Franz Wagner, to give the Wolverines a 14-4 edge. Purdue head coach Matt Painter burned a timeout. At that point, Michigan was on a 12-2 run and Purdue hadn't scored in 3:55.
Out of the timeout, the Boilermakers got two quick buckets to trim it to 14-8.
While the score was 16-10 at 9:19, Michigan freshman center Hunter Dickinson committed a moving screen, his second foul of the night, and headed to the bench. The next possession, Purdue freshman big man Zach Edey had a dunk to make it 16-12. Purdue had made four of its last five shots from the field at that point.
A Livers three with just under eight minutes to play gave the Wolverines a 21-14 lead, and that was the score at the under-eight media timeout. Livers led all scorers with seven points, and Michigan was 3-of-7 from long range.
Two straight buckets from Brooks with over six minutes to go until the half gave the Wolverines a 25-14 lead.
Michigan junior forward Brandon Johns Jr. scored a bucket in the paint at 4:06. Michigan had a 27-15 edge at that point. Purdue hadn't made a field goal since the nine-minute mark, and the Boilermakers were shooting just 26 percent from the field (6-of-23).
Livers hit a three at the 38-second mark to give Michigan a 34-21 advantage, and that was the score at the half. His 12 points led all scorers. Williams led the way for Purdue with five points, but those came on 2-of-7 shooting.
Michigan shot 41 percent overall and 36 percent from long range in the first half, while Purdue was 0-of-6 from three and connected on just 32 percent of its looks from the field.
Second Half
Michigan came out hot right out of the locker room, with Dickinson hitting a shot before Livers nailed another three, his third of the night, a possession late to start off on a 5-0 run.
Back to back threes by Purdue redshirt freshman guard Brandon Newman cut the Michigan lead to 40-27 at the 17:40 mark. Junior guard Eric Hunter Jr. then made a layup the next trip down and cut it to an 11-point deficit, 40-29, which was the score at the under-16 media timeout. Michigan had three turnovers in the first four minutes of the half.
Purdue cut it to 42-32 with just under 15 to play, but Michigan went on a quick 6-0 run to make it 48-32. But, two-straight jumpers by Williams got the deficit back to 12 points for Purdue. Michigan led, 48-36, at the under-12 media timeout. Michigan had allowed seven offensive rebounds in the half at that point.
Michigan senior guard Chaundee Brown nailed a three right out of the timeout to make it 51-36.
Michigan held the Boilers to a three-minute scoreless stretch at 8:41, and held a 57-40 lead. Painter called timeout after Wagner weaved his way to the bucket and dropped in a layup through traffic.
An and-one layup through the contact by Dickinson at 5:09 gave the Wolverines a 62-46 lead, with the freshman cashing in at the charity stripe. Williams answered on the other end to get it back to 14 — and back and forth the two teams went. It was 64-50 at the under-four media timeout.
Michigan's defense put the clamps down for one last stretch, with the Boilermakers not making a field goal in over four minutes to end the game.
The final score ended up 70-53, with the Wolverines coming away victorious. Livers led all scorers with 22, and made good on three of his five attempts from long range.
The Wolverines shot 45 percent from the field, while the Boilermakers made only 31 percent of their shots. Michigan led for every second of the game.