Michigan Wolverines Football: Five Best Players Of The Game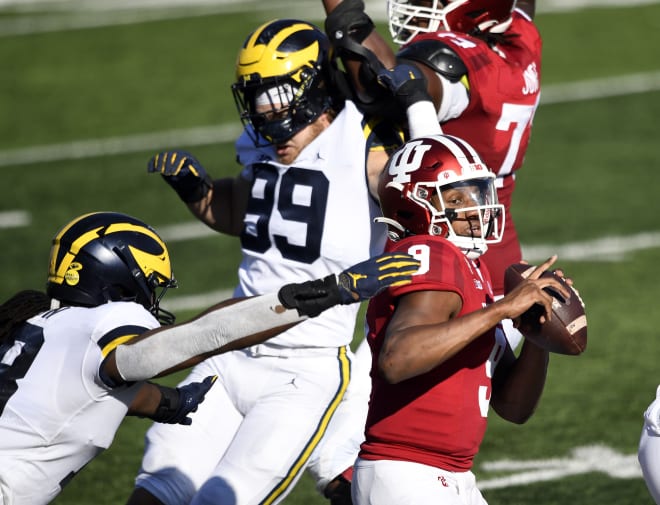 2. Indiana wide receiver Ty Fryfogle: Fryfogle became the second straight opposing wideout to enjoy an All-American day against Michigan's defense. He hauled in seven catches for 142 yards, career highs, doing almost all his damage while the Hoosiers were racing away in the first half. His 24-yard score late in the first quarter put IU up for good at 14-7.

3. Redshirt sophomore quarterback Joe Milton: Milton went 18-of-34 passing, and even topped Penix's yardage with 344. The U-M QB also threw for three touchdowns. But Milton also missed a wide-open junior receiver Ronnie Bell on what could have been a big TD, and threw two key interceptions late to end a rally.
4. Junior receiver Ronnie Bell: Bell played a big role in Michigan's comeback, making six catches for 149 yards and a touchdown. He'd have topped 200 yards if Milton had found him streaking down the middle alone. As it was, Bell helped give the Wolverines a chance and fell one yard shy of tying his single-game career best (set in 2019 vs. Michigan State).
5. Indiana safety Devon Matthews: Matthews ended all of Michigan's hopes with an interception late, but he proved a thorn in Milton's side all day. One of his five stops (tied for second most on the IU defense) involved a tackle for loss, and he also broke up a pass.