Previewing Penn State With A Nittany Lion Insider
Nate Bauer of BlueWhiteIllustrated swung by TheWolverine.com this week to help break down Penn State's squad prior to its matchup with the Michigan Wolverines' football team this weekend.
He explained what Maize and Blue fans should be on the lookout for on Saturday night in Happy Valley, and also revealed how he thinks the game will go by providing his final score prediction at the end.

Penn State Football's Projected Starters On Offense
• Redshirt sophomore QB Sean Clifford — His 13 touchdown passes are the third most in the Big Ten, while his 64.2 completion percentage is good for fourth in the league. Clifford's 260.0 passing yards per game, meanwhile, lead the conference, and his 252 rushing yards are the second most on his team.
• Redshirt sophomore RB Journey Brown — His 233 rushing yards are actually the third most on the roster, due to the fact that Penn State employs three other running backs on a regular basis (freshmen Noah Cain and Devyn Ford, and sophomore Ricky Slade). Brown rushed for 109 yards in the win 17-10 over Pittsburgh Sept. 14, but has actually not surpassed 38 yards in any other game this season.
• Redshirt sophomore WR K.J. Hamler — He leads the Nittany Lions in all of the team's major receiving categories, including catches (26), yards (455) and touchdown receptions (five). The 5-9, 176-pound speedster has been consistently productive for PSU, reeling in at least 61 yards in five of the team's six outings.
• Sophomore WR Jahan Dotson — His 261 receiving yards are the second most on the squad and his three TD grabs are tied for second, while his 14 catches check in third. Dotson's 18.6 yards per reception stand also the sixth-best average in the Big Ten.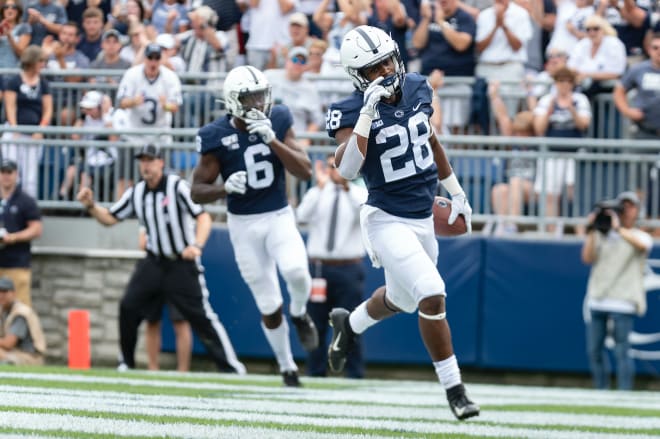 • Redshirt freshman WR Justin Shorter — He has been banged up a bit this year, and has only hauled in eight catches for 100 yards as a result. The former five-star recruit's 6-4, 235-pound stature has a chance to create mismatches in the passing game, though he has yet to compile more than 36 yards in a game this season.
• Sophomore TE Pat Freiermuth — He has built off a solid freshman campaign in which he racked up 368 yards and eight scores, hauling in 17 catches for 203 yards and three touchdowns this time around. Freiermuth's 203 yards are actually the third most in the Big Ten among tight ends, trailing only Purdue fifth-year senior Brycen Hopkins' 345 yards and Indiana redshirt sophomore Peyton Hendershot's 256.
• Redshirt freshman LT Rasheed Walker — He was rated as the No. 65 player in the country out of high school, and redshirted in 2018 as a freshman at Penn State. Walker has started all six games of the 2019 campaign so far, and is the third-heaviest player on the entire team at 324 pounds.

• Fifth-year senior LG Steven Gonzalez — The veteran has been a staple on PSU's offensive line during head coach James Franklin's tenure, having started 32 straight clashes dating back to the start of the 2017 season. Pro Football Focus (PFF) has also rated him as the Nittany Lions' second best starting offensive lineman, awarding him with a 73.6 overall grade (64 is considered average).
• Redshirt junior C Michal Menet — He has also been a mainstay along the Penn State front, starting all six games this year and earning the starting nod in 12 outings last season. Menet was named to the preseason Rimington Trophy (given annually to the nation's best center) watch list, and his 78.9 PFF grade is the highest of the 11 offensive players PSU is projected to start on Saturday night.
• Redshirt sophomore RG Mike Miranda — He is one of two new starters on the Nittany Lion O-line (along with Walker), having opened just one career game prior to 2019. Miranda will likely start on Saturday, but is often rotated in and out with fellow redshirt sophomore C.J. Thorpe (the former has played 280 snaps this season, while the latter has seen 207).
• Redshirt junior RT Will Fries — His 77.6 mark as a pass blocker is the second best among Penn State's linemen, finishing just behind Gonzalez's 78.4. At 6-6, Fries is tied as the second tallest player on the Nittany Lions' entire roster.
Penn State Football's Projected Starters On Defense
• Junior DE Yetur Gross-Matos — After racking up eight sacks and finishing second in the Big Ten with 20 tackles for loss in 2018, Gross-Matos is once again off to a fabulous start in 2019 with 5.5 of the former and 8.5 of the latter. He leads the club in tackles for loss and is tied with redshirt junior defensive end Shaka Toney for the team lead in sacks, while his four quarterback hurries are also knotted for the most on defense.
• Fifth-year senior DT Robert Windsor — His 86.5 grade is the second best of any PSU defensive player, while his 84.3 mark as a pass rusher is tops among the club's 11 projected starters. Windsor played his best game of the year last week at Iowa, racking up 2.5 tackles for loss, 1.5 sacks and two quarterback hurries.
• Redshirt junior DT Antonio Shelton — He had only made one career start prior to 2019, but has become a key cog in the middle of the Nittany Lion defensive front this year. Shelton's six tackles and 2.5 stops behind the line of scrimmage aren't necessarily eye-popping, but he has also earned a very good 75.9 PFF grade against the run.
• Redshirt junior DE Shaka Toney — His 5.5 sacks are tied with Gross-Matos for the team lead, while his six tackles for loss are deadlocked for second. Toney's 85.2 overall tally is the third best on PSU's defense among players who have seen at least 23 snaps this season.
• Sophomore LB Micah Parsons — The No. 6 overall player in the country out of high school in the 2018 class has registered six tackles for loss and 31 tackles so far this year, the latter of which leads the team. Parsons has also logged a 92.0 grade as a run defender, which is obviously incredibly high praise from PFF.
• Senior LB Cam Brown — He has played in 43 games since his freshman season of 2016, and was tabbed to the Butkus Award (given to the nation's top linebacker) preseason watch list heading into 2019. Brown has earned a 92.5 PFF mark against the run this season, and an 80.3 tally overall — both are excellent.
• Fifth-year senior LB Jan Johnson — He is the highest-rated player on a Penn State defense that has been elite this season (ranks fourth nationally in fewest yards allowed per game), checking in with an 87.9 grade from PFF. The outlet has also rated Johnson as PSU's top tackler, pegging him with an 88.6 mark in that department.
• Fifth-year senior CB John Reid — He has been through plenty of turmoil in State College, missing the entire 2017 campaign with injury after starting all 14 games in 2016 as a sophomore. Reid has bounced back nicely, having begun 17 contests and compiled 19 tackles and four passes broken up this season.
• Junior CB Tariq Castro-Fields — His 274 snaps are the fourth most on PSU's defense, with he and Reid seldom leaving the field (redshirt freshman Trent Gordon's 131 snaps are the next-highest total at the position). Castro-Fields' five passes broken up lead the team and his 23 tackles check in sixth.
• Junior S Lamont Wade — He was rated as a five-star recruit and the No. 11 prospect in the country out of high school in the 2017 class, but did not start a game during his first two years on campus. Wade has opened all six contests this season though, and his 29 tackles are the second most on the team.
• Fifth-year senior S Garrett Taylor — The former Michigan commit in high school has accumulated 27 tackles and two stops behind the line of scrimmage in 2019, while playing 296 snaps (second most on the defense). His PFF grades are actually better against the run than the pass, with the veteran earning a 75.1 tally as a run defender and an 84.2 mark as a tackler.
Penn State Football's Projected Starters On Special Teams
• Sophomore K Jake Pinegar — Bauer revealed that Pinegar will be the kicker Penn State turns to when it attempts kicks within 50 yards, while redshirt sophomore Jordan Stout will handle any field goals longer than that. Pinegar has made 5 of 6 tries on the season, while Stout has connected on 2 of 3 (including a long of 57).
• Senior P Blake Gillikin — He has dropped 15 of 28 punts inside the opponent's 20-yard line, though his 41.04-yard average is underwhelming (ranks ninth in the Big Ten). Gillikin has also registered five punts that have traveled 50 yards or further, including a long of 62.
Penn State Football's Biggest Strength On Offense:
"It wasn't present against Iowa's ultimate bend-but-don't-break defense, but explosive plays are Penn State's meal ticket on the offensive side of the ball," Bauer revealed. "Whether it's K.J. Hamler, Jahan Dotson, Pat Freiermuth, or really any of running backs Journey Brown, Ricky Slade and Devyn Ford, Penn State has pieces that seemingly can break one at any moment.
"Just as a matter of standard practice, Iowa's entire philosophy is to take those big plays away by keeping everything in front of it, so the results Saturday night at Kinnick were just four chunk plays: Hamler's 22-yard touchdown in the second quarter, the 15-yard overturned-touchdown for Freiermuth, and a couple of runs of 12 and 11 yards."
Penn State's offense has consistently been one of the best units in the country at creating big plays this season, with their 12 plays of 40 yards or more ranking 10th nationally, and their eight plays of at least 50 yards checking in seventh.
The Nittany Lions have racked up five passing plays of 50 yards or more on the year, and three rushing plays over that same distance.
Penn State Football's Biggest Weakness On Offense
"The weaknesses for this Penn State team are relative," the writer began. "The first is that Sean Clifford is still a redshirt sophomore quarterback getting his first taste of this level of football and, at times, it shows. He's been skittish at the start of the games with the most hype surrounding them, so far being Pitt at Beaver Stadium and Iowa last weekend on the road.
"At times on Saturday, he also wasn't helped much by receivers who still have not necessarily asserted themselves outside of Hamler and Dotson.
"The other weakness is something that, at least for the time being, appeared to be resolved at the end of the game against the Hawkeyes when Penn State three times chewed up time of possession in the fourth quarter and closed it out by being steady and successful on the ground.
"In a game that Iowa tried to limit possessions, Penn State produced 24 plays and had 10:23 in time of possession in the fourth quarter including a two-minute, 31-second possession to run out the clock with a critical three straight runs for a first down to seal it.
"Penn State had not been able to do that to this point in Franklin's tenure with the program."
Penn State Football's Biggest Strength On Defense
"The defense is designed entirely around first stopping the run, and second being aggressive once opponents abandon the run," Bauer noted. "Penn State has done an excellent job this season in limiting opponents on the ground, right now ranking No. 3 nationally for rushing defense, and you can see how that effectiveness manifests itself in other areas of the game.
"Specifically, Penn State is also No. 2 nationally in sacks per game with 4.5 per outing through six games.
"This is another outstanding defensive line for Penn State, made even more potent by the fact that it rotates at every position, and its backed by a group of linebackers that have been pretty good at stopping the run and the pass."
Even more impressive than PSU's No. 3-ranked rush defense is the fact that it is allowing opponents to average just 1.5 yards per carry against it, which is tops in the nation.
The Nittany Lions have held five of their six foes to 70 rushing yards or fewer, including a season-best minus-19 in the 35-7 win over Purdue Oct. 5.
Penn State Football's Biggest Weakness On Defense
"Where the [aforementioned] strategy proves itself vulnerable, however, is against good quarterbacks and receivers that can make plays against man coverage," the insider said. "If a quarterback has the presence to hang in the pocket and deliver a strike to his targets on the perimeter, even when the pocket is collapsing on him, success is out there to be had.
"And that's one of the areas that Penn State would like to see improvement is that its corners and safeties haven't been quite as good as they'd prefer at converting the pressure of the front four into more turnovers on the back end."
PSU's secondary has allowed 205.8 passing yards per game on the year, which ranks 49th in the country. Opponents have had great success through the air against the Nittany Lion at times, with Pittsburgh shredding the unit for 372 yards on a 68.6 completion percentage.
Iowa found success against it last week as well, accumulating 286 yards of its own.
Bauer's Final Score Prediction
"I've gone back and forth on this one and am having trouble settling on the numbers, but I have Penn State coming out with the win for a couple of reasons," Bauer explained. "Yes, the White Out will be something to consider, but for me it just boils down to something that I think is prevalent throughout the Big Ten at this point: Most of Penn State's opponents can't (don't want to?) produce points in bunches.
"Penn State is capable and wants to be aggressive offensively, and with playmakers that are hard to keep bottled up for four quarters, it only takes a handful of explosive plays to get into the 20s on the scoreboard.
"Twice now this season, Penn State has gotten itself into out-of-whack possession games against Pitt and Iowa, but has adjusted accordingly and come out with wins anyway.
"So just given some of the challenges Michigan has faced offensively this season, against what I consider to be a pretty strong Penn State defense that hasn't allowed anyone to run the ball on it and makes life difficult for opposing quarterbacks, I think this game sets up well for Penn State to limit the Wolverines' points.
"It's just a question of what Penn State offense we'll see. If Michigan's defensive identity holds true and it's a game of one-on-one matchups on the perimeter, like I said, it only necessarily takes a handful of big plays for Penn State to cash in.
"Even if Michigan takes those away, it's just going to be very challenging to keep Penn State out of having enough scoring opportunities to get into the 20s. One thing to keep in mind, too, that I think is often overlooked but is critical nonetheless: Blake Gillikin is an outstanding punter for Penn State coming off an elite game at Iowa that truly dictated field position for most of the night.
"Even if Penn State's explosive plays are taken away offensively, it does a good job playing complementary football to swing field position with the punting game and then using its defense to return the ball into the offense's hands in pretty advantageous spot.
"For official submission, then, I'm going with Penn State 30, Michigan 16. Maybe that's a touchdown too high for Penn State. And maybe Michigan is at 17 given its track record on field goals this season, though Penn State has been quite effective at clamping down in the red zone to force field goals rather than giving up touchdowns."