Wolverine Watch: Grabbing Joy When You Can
The Wolverines can't win right now. For three weeks, they literally could not win, and when they finally do, it's cringe-worthy for some.
Many embraced the rally from a 17-0 deficit to a 48-42, triple-overtime win at Rutgers with all the enthusiasm of an old Fear Factor contestant gobbling down an Iraqi Camel Spider. They recoiled in horror, noting with 13 years worth of unwarranted arrogance how far the mighty have fallen.
Rutgers? RUTGERS? Sure, celebrate that if you want, boys. Come back and see me when you beat a real team.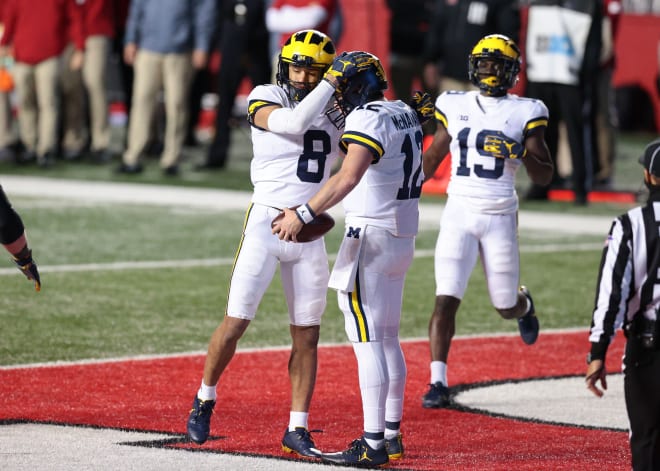 Well, for one, Rutgers might be back on the path to becoming a real team under Greg Schiano. The Scarlet Knights scooped up transfer portal free agents like George Steinbrenner in his prime in the offseason, and it's paid off.
Michigan's defense — featuring a shell of the personnel it was supposed to field this season — allowed the Scarlet Knights 35 points in regulation. Schiano's crew scored 27 against Ohio State, and 38 against Michigan State, the latter a terrible team this year, but not quite terrible enough, right?
"It's a better Rutgers team, okay?" noted Michigan radio sideline reporter Doug Karsch. "Now, is it still too close for tradition? Yes. I get that. But they hit the transfer portal, they upgraded their talent, and they're a better team."
Second, it's not a better Michigan team. It's an injury-riddled, too-young, walk-on-playing squad that's arguably the worst in six years under Jim Harbaugh. There's a legitimate debate to be pursued about whether, six years in, Harbaugh and his staff could have recruited better, prepped better, deployed better and coached better to not be 2-3 right now.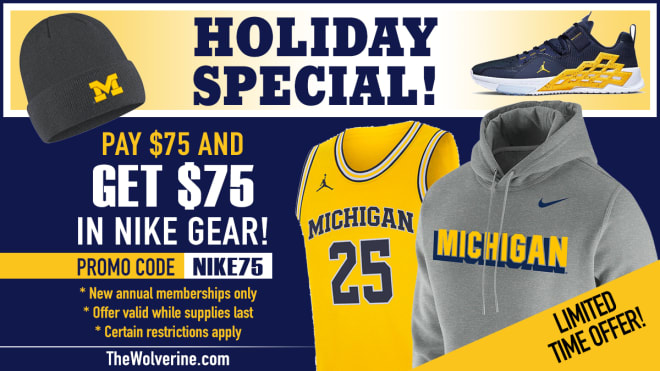 But that probably shouldn't translate into a sneering cynicism over perceived excess happiness if they do pull off a victory.
"As far as the kids celebrating, I've taken questions about how they don't look excited, they don't look interested, they look like they're going through the motions," Karsch observed. "Okay, that's fine.
"But then when they kind of get a monkey off their back and get a win, when they get excited, and they go and show some emotion, and show that they're vested, you can't rip them for that too, can you?"

The answer became painfully evident in the days following the Knight raid in Piscataway. Evidently, the season of our discontent will not be interrupted by any pleasurable distractions.
"We knew already that they were struggling at 1-3," Karsch said. "We knew that this was a team that had some real issues. But I can't get on the kids for being real excited. When you win a game you thought you might lose, you find a way, good for them."
Karsch doesn't just mouth a company line. In his full-time job, as a sports talk radio host on 97.1 The Ticket, he's cast serious doubt as to whether this staff makes it much longer.
That said, he still sees promise, and he should. For starters, redshirt freshman quarterback Cade McNamara delivered a ridiculously strong effort (27-of-36 passing for 260 yards and four touchdowns) in barely more than a half of football to bring his team back.
He's among a vast array of freshman- and sophomore-eligible performers on this crew. From redshirt sophomore tailback Hassan Haskins and sophomore receivers Cornelius Johnson, Giles Jackson and Mike Sainristil, to an offensive line peppered with new talent, the Wolverines feature growth potential no matter who's in charge.
The defense needs a bigger talent infusion and several to grow up fast, but the cupboard isn't bare. It never is, and never will be at Michigan.
"When you have a roster like this, no matter what happens next, it feels like it's a roster that could be pretty good in a couple of years," Karsch opined. "I remember thinking the same thing near the end of the [Brady] Hoke era.
"It turned out to be the case. They're taking some lumps now. [Offensive line coach] Ed Warinner has got some pretty good raw material. I'm excited to see what he can do with them."
Not to mention that fact that things can always be worse. Just ask Penn State.
The Nittany Lions' personnel woes mirrored Michigan's in many ways, in this COVID-marred campaign. Opt-outs, injuries and natural attrition rendered James Franklin's crew vulnerable. Five straight foes kept them winless.
The 36-35 overtime loss at Indiana looked shocking. The shock wore off, though, when Ohio State, Maryland, Nebraska and Iowa took their turns against the Big Ten East's new Piñata.
If McNamara's band of brothers can keep it going, the Wolverines could actually claw back to .500 on the year. Given the circumstances, that would be something to celebrate — sans scorn.