PFF Simulation Projects Michigan's Win Total, Big Ten Championship Odds
How many football games will the Michigan Wolverines win this fall?
As is tradition this time of year, everyone seems to have an opinion, including us (preorder the Michigan Football Preview Magazine to get our picks!). Some Las Vegas sportsbooks set the Wolverines' over/under win total at eight, while others are at 7.5.
PFF recently used its simulation numbers and analysis to project the win total for each Big Ten team and provide percentages on a squad's odds to win the conference title.
"Percentages are derived from 10,000 simulations of each team's regular-season schedule, along with a model for how the conference title game and College Football Playoff will play out," PFF's Anthony Treash and Eric Eager made sure to note.
Michigan, which is projected to win seven games, is listed as having the fifth-best chance to win the conference at five percent, behind No. 1 Ohio State (48 percent), No. 2 Iowa (17), No. 3 Wisconsin (11) and No. 4 Indiana (seven).
RELATED: Jim Harbaugh's Status Is A Top College Football Storyline Heading Into 2021
RELATED: Michigan Football Preview Excerpt: Aidan Hutchinson Has No Time To Waste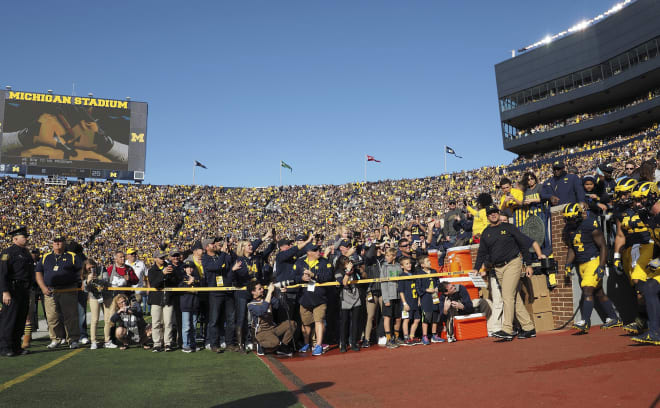 This projection is safe, and places Michigan squarely in between last year's disastrous two-win season and fully back to what head coach Jim Harbaugh and Co. had produced in the five previous seasons, when his squads posted 10-win seasons three times and never won less than eight games.
The Wolverines will have a new look, with eight players having headed off to the NFL, but plenty of key pieces remain.
Four — redshirt sophomore left tackle Ryan Hayes, redshirt junior tackle Andrew Stueber, sixth-year senior center Andrew Vastardis and freshman guard Zak Zinter — have starting experience on the offensive line. And the team's leading receiver each of the last two seasons in junior Ronnie Bell, as well as the club's leading rusher from a year ago in redshirt sophomore Hassan Haskins are both back at the skill positions.
And of course, the quarterback spot will be extremely important.
"On offense, [redshirt sophomore] starting quarterback Cade McNamara — a four-star recruit in 2019 — is the obvious linchpin," the analysts noted. "He attempted 71 passes on the year over a few starts en route to a middling 65.0 PFF grade. He did manage to lead the Wolverines to an efficient passing offense on those reps, generating 0.110 expected points added per dropback. Still, McNamara is going to have to be significantly better than that for this team to be anything special in 2021."
On defense, junior edge defender Aidan Hutchinson, a preseason third-team All-American, headlines the front seven, while the secondary is led by sophomore Daxton Hill and fifth-year senior Brad Hawkins, both of whom were starters last season (Hawkins started in 2019, as well).
"The safety tandem of Daxton Hill and Brad Hawkins is among the best in the Big Ten and has the potential to be one of the top pairings in the Power Five. And edge defender Aidan Hutchinson — a top-five player at the position nationally — is back and fully healthy after missing half of Michigan's six games in 2020."
Still, question marks are plentiful. PFF doesn't believe the roster has enough firepower to take down the elite opponents on the schedule, namely Ohio State.
"Unfortunately for the Wolverines, it doesn't look like their 2021 roster will be capable of knocking off rival Ohio State," wrote Treash and Eager. "The good news is that they should be better than they were last year, giving them a shot at ending their five-year bowl game win drought.
A big reason why Don Brown is no longer the defensive coordinator at Michigan was because of his unit's inability to stop — or even slow down — opponents' passing attacks last season. The Wolverines finished 90th in the country in passing yards allowed per game (250.5), another significant reason why PFF doesn't have confidence that Michigan will win 10-plus games.
New coordinator Mike Macdonald and defensive passing game coordinator Steve Clinkscale, who joined the staff after spring ball, are now tasked with making sure Michigan's corners can hang with the opposition's receivers and that they have enough help from the safeties. A pass rush would help, too, following a season in which the Maize and Blue picked up just 1.5 sacks per contest (104th in the country).
"The big thing to monitor on the defensive side of the ball is the outside cornerback unit," the analysts continued. "The group was scorched for a good part of the shortened 2020 season, ranking 57th of the 65 Power Five teams in expected points added allowed per target to outside receivers."