Updated Michigan Basketball Scholarship Chart And Breakdown
Michigan Wolverines Basketball Scholarship Chart
Note: Scroll to see entire chart through 2024-25 with legend.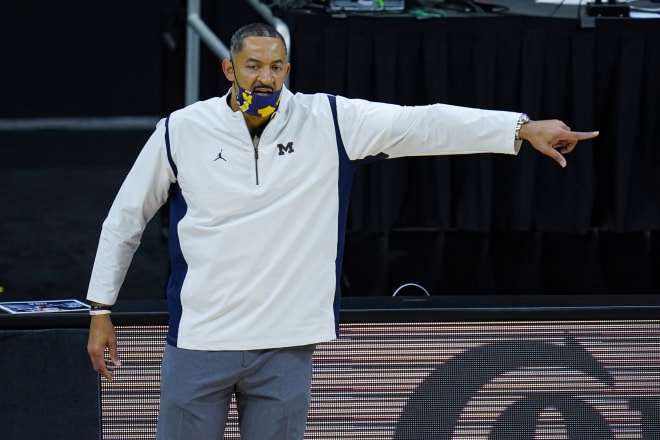 Breaking Down Michigan's 2021-22 Roster
• Guard Eli Brooks is returning for his fifth year with the program, and since the 2020-21 season was deemed a 'free year' eligibility-wise, he will not count against the scholarship limit.
• On Saturday, Coastal Carolina graduate transfer DeVante' Jones, who has two years of eligibility remaining but is likely to only use one, announced his commitment to Michigan. The reigning Sun Belt Player of the Year fills a need at point guard and is the 13th and final scholarship player for next season. His name is still in the 2021 NBA Draft, but he said he is primarily keeping it in to receive feedback from the league on his game to better himself when he arrives in Ann Arbor. He is fully expected to play collegiately this season.
• After Jones pledged, the Wolverines were actually set to surpass the 13-scholarship limit, but that was only brief, and it was unlikely to begin with. Tuesday, Michigan wing Franz Wagner announced that he will declare for the NBA Draft and leave the program, forgoing his final three years of eligibility. That puts the Maize and Blue at an even 13 for the time being (not counting Brooks).

Potential Shape Of Michigan's 2022-23 Roster
• It looks crowded, doesn't it? Every scholarship is filled for 2022-23 as of right now, but we can guarantee that the Wolverines will bring in recruits (and possibly a transfer or multiple) ahead of the campaign.
• There are multiple reasons for why Michigan will have room for additions. First — and as mentioned above — Jones has said publicly that he only wants to stick around for one year in Ann Arbor.
Additionally, while forward Brandon Johns and guard Adrien Nunez will still have eligibility in 2022-23, they would have to be asked to come back by the program (if they want to return themselves) for a fifth year to stay on the roster. Their situation is unlike Brooks', with the NCAA not saying that they won't be counted against the limit if they do return.
• For sake of argument, if all three — Jones, Johns and Nunez — were to depart the program, Michigan would have that many scholarships to give out to 2022 prep recruits or incoming transfers.
But it's also important to note that center Hunter Dickinson may want to leave the program for the NBA, and that incoming freshman Caleb Houstan, a five-star recruit, is projected as a lottery pick in 2022 by some prognosticators.
We'll also point out that, while Michigan hasn't had any players leave the program via the transfer portal this offseason, that it's not outside of the realm of possibility that it happens next season — and that would open up a spot.
There is still a lot of time between now and when the 2022-23 roster needs to be solidified, and there will be more clarity by this time next year or even sooner, considering Howard and Co. are likely to start accepting commitments this summer.